Dogecoin Faucet; Get free dogecoin directly & 100% of referrals activity
FreeDogeCoin is a dogecoin faucet that gives a random amount up to 10 Dogecoin to all visitors. You can earn this free Dogecoin every 60 minutes with a simple click. Also you will earn the same amount that anyone with your referral link earns. You will find your referral link in the top table with which you can refer your friends or colleagues to participate in FreeDogecoin.
To get started, You need to enter your Dogecoin address in the top table and click "Submit" button. Then registration form pops up and you need to enter your email and choose a password and submit.
In your first login, You will be asked to verify your email. If you didn't get the verification email in your inbox, then check your SPAM folder and find the verification email and click on "Report Not Spam" then click on the verification link. To find the spam folder in gmail, in the left menu that contains inbox, scroll to the bottom and click more. Then spam folder appears in the menu.
Then you will see your referral link and your free dogecoin balance. In the bottom of the table you can simply fill in security code and click "Submit Request" to earn Dogecoin. You can earn Dogecoin every 60 minutes at the moment. Also you can share your referral link and anytime a person with your referral link earns Dogecoin, you will earn the same amount.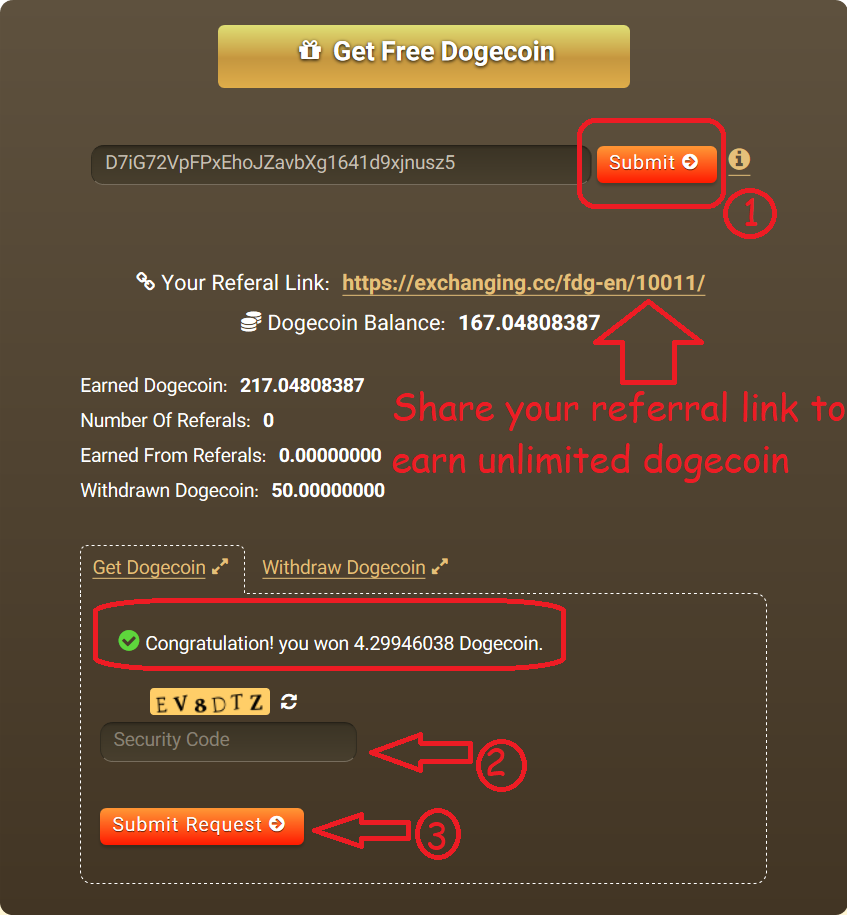 To withdraw your free dogecoin, click on "withdraw Dogecoin" and enter your desired amount and fill in security code and click "Submit withdrawal". if everything goes right you will see your tx hash and you can check your wallet.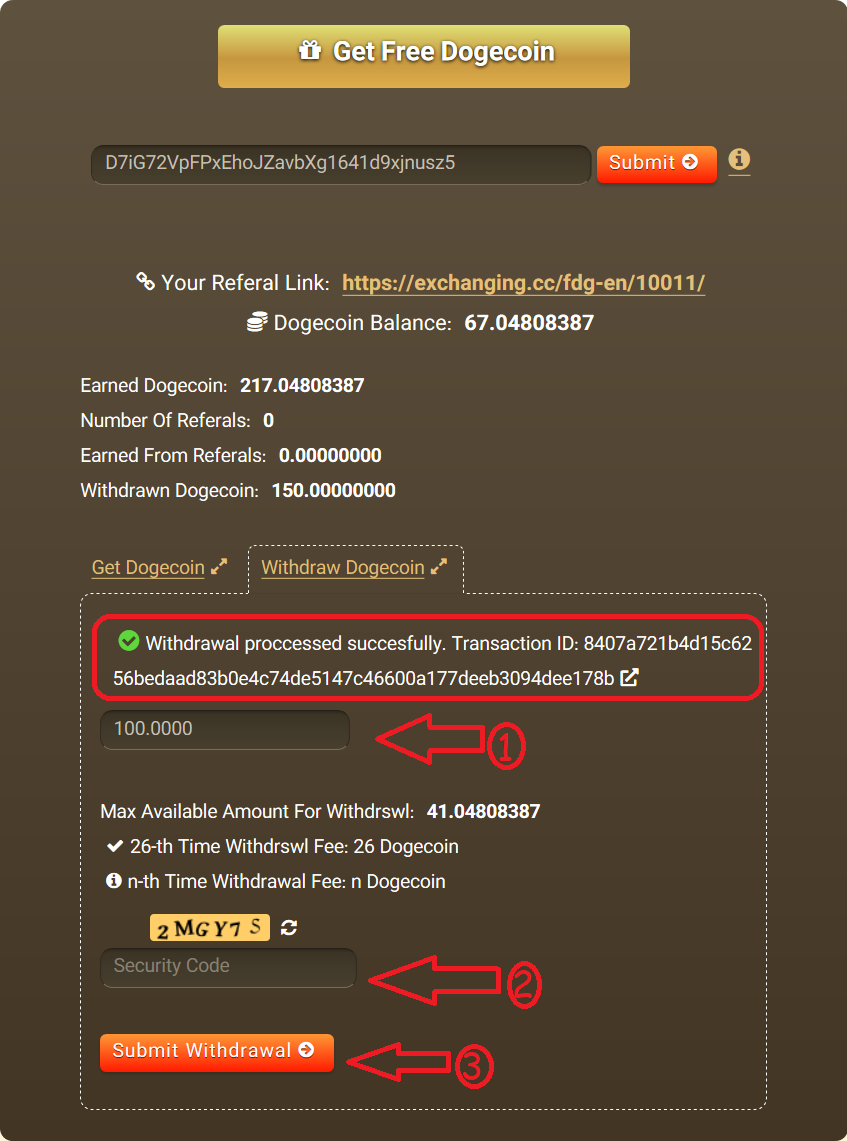 You can see account information, change email, change password and log out from this top menu: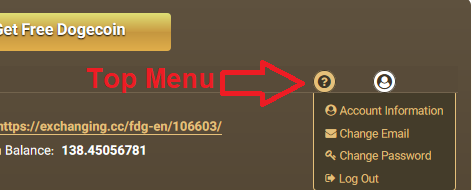 congratulation and we hope you can earn more free doge coin. Also you can exchange almost any amount of Dogecoin to other cryptocurrencies in the Exchange Cryptocurrencies section.
If you have any question you can join free dogecoin telegram group and ask your questions:
https://t.me/exchanging_freedogecoin
FAQ
How Can I register and get free dogecoin?
You need to enter your dogecoin address and click submit so registration form pops up. It is simple and basic.
If you don't have a dogecoin address then you need to search for a wallet that supports dogecoin. It is better to use a wallet that has no minimum. You can use this wallet with your own discretion:
https://my.dogechain.info/#/overview
How much dogecoin will I earn here?
You can win a random amount between 0 to 10 dogecoin every 60 minutes. Just log in to your account and in the earn dogecoin section, fill in security code field and press submit button.
How much dogecoin do I earn from my referrals?
At the moment you earn 100% from your referrals activity. It means any amount that a person registered with your referral link earns, you earn the same amount instantly.
If someone is earning but it is not reflected in our account immediately, it means that person is not your referral and probably they have changed your referral link before registration.
How much is the minimum required balance to withdraw?
For 1-st withdrawal you need a balance of at least 2 dogecoin
For 2-nd withdrawal you need a balance of at least 3 dogecoin
For 3-rd withdrawal you need a balance of at least 4 dogecoin
And so on.
"Max Available Amount For Withdrawal" option in your account is the amount that you can withdraw and it should be more then 1 dogecoin
How long it takes for a withdrawals?
We normally send withdrawals within 10 to 20 minutes. You can find transaction hash from withdrawal history and check the validity of hash from dogecoin explorers. The rest depends on your wallet and if you need any help with that, contact your wallet support or read their help section.

Before making withdrawal, check the minimum amount that your wallet accepts.
If you are not receiving Verification Email in your inbox:
1- Check your Spam and Trash folders as well as Inbox
2- Check correct spelling of your email in your account
3- Add our email to your contact list: "info@exchanging.cc"
4- Enter your account and request another verification email
To find the spam folder in Gmail, in the left menu that contains inbox, scroll to the bottom and click more. Then spam folder appears in the menu. Now check your SPAM folder and find the verification email and click on "Report Not Spam" then click on the verification link.
I already had an account. why it asks me to register again?
Just register with your old address! your balance and referrals are still there.
I already had an account why it asks me to verify my email?
From now on it is necessary to verify your email before any activity in your account.
Why my account is blocked?
Accounts get blocked as a result of:

Using bots or scripts

Using a faulty browser

Creating more than one account

Entering wrong captcha for several times
Depends on the severity of security alert, blocking time may vary from 3 days to infinity.
How to change dogecoin address in my account?
It is not possible to change address in free dogecoin accounts.
How much is dogecoin price?
You can track live dogecoin price from this chart:
https://exchanging.cc/marketcap/dogecoin/#chart
Also you can track the current rate of dogecoin to other coins from our exchange section:
https://exchanging.cc/en/
If you have further questions you can join free dogecoin telegram group and ask your questions:
https://t.me/exchanging_freedogecoin